Narrating the evolving relationship between Snow and the Argentine Forensic Anthropology Team, El Equipo delves into some of the most high-profile cases of the team's history including the El Mozote massacre in El Salvador, and later the case of the missing 43 students in Mexico, where members of the team have faced threats, spying and official attempts to discredit their work. Snow's legacy is also examined in countries like Guatemala, where Snow mentored forensic scientist Freddy Peccerelli and helped create a Guatemalan forensic team.
With an unprecedented access to the Argentine Forensic Anthropology Team and its archives, El Equipo offers a welcome twist to the traditional true crime film by focusing on systemic political and human rights abuses rather than on one-off tales of murder or lone serial killers, and deftly creates a direct link between state atrocities from the past and present.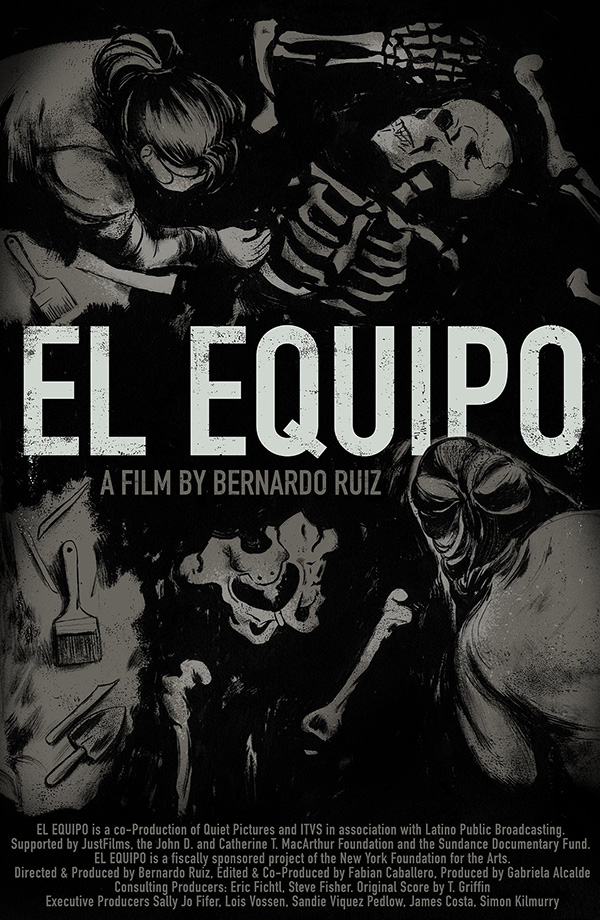 | | |
| --- | --- |
| Year | 2023 |
| Runtime | 80 minutes |
| Language | English, Spanish |
| Country | USA, Argentina, Mexico |
| Director | Bernardo Ruiz |
| Producers | Bernardo Ruiz, Gabriela Alcade |
| Co-Producer | Fabián Caballero |
| Editor | Fabián Caballero |
| Consulting Producers | Eric Fichtl, Steve Fisher, Sara Rafsky |
| Original Score | T. Griffin |
| Associate Editor | Pedro Urgiles |
| Executive Producers | Sally Jo Fifer, Lois Vossen, James Costa, Simon Kilmurry, Sandie Viquez Pedlow |
| Supervising Producer | Michael Kinomoto |
| Cinematographers | Diego Bokser, Antonio Cisneros, Juan Hernández, Claudio Rocha, Nancy Serna Guerrero, Victor Tadashi Suarez |
| Content warning | Contains images of dead bodies and human remains |
El Equipo is a co-production of Quiet Pictures and ITVS in association with Latino Public Broadcasting.
Supported by JustFilms, the John D. and Catherine T. MacArthur Foundation and the Sundance Documentary Fund.
El Equipo is a fiscally sponsored project of the New York Foundation for the Arts.